Fractures, Fears and Family
Original Air Date: Friday, February 26, 2021
For those with an osteoporosis diagnosis, it is not uncommon to feel anxious about health and lifestyle changes that might be necessary. But what about your friends and family? How does this affect them? How can they be part of your team and help you build better bones? Christine Thomas discusses the impact on family and friends and strategies for all of those around you who are affected.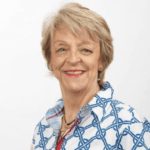 Christine Thomas, Author, Speaker & Advocate
Christine Thomas is an author, speaker, advocate. Armed with scientific evidence and her personal story, Christine Thomas advocates strongly for better bone health for all Canadians, and through her own journey has become a well-known expert in living with osteoporosis. Christine's story has inspired many, and has been been featured in the media across Canada.