Broken bones in the spine are referred to as vertebral compression fractures or spine fractures. The spine is one of the most common sites of broken bones as a result of osteoporosis. Imagine each bone in your spine as a square block. When the bone breaks, it is like the "box" becomes squashed or compressed or flattened.
A spine fracture can happen very suddenly as a result of a fall, or something more minor such as sneezing, coughing, reaching, lifting or carrying. Some spine fractures do cause pain. The pain can vary from mild to excruciating pain in the back. This pain may bring about a visit to the hospital or doctor's office where an X-ray may confirm a broken bone in the spine.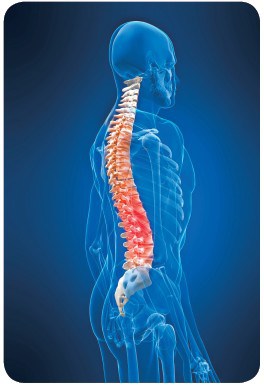 Two-thirds of broken bones in the spine happen without causing any pain at all and are found either:
on an X-ray for another purpose, or
because your healthcare provider thinks you may have lost height.
Painless spine fractures are just as important as painful ones. If you have had a broken bone in your back that was caused by osteoporosis, whether it was painful or not, you need osteoporosis treatment to reduce your risk of another fracture. Treatment will include medication, a calcium-rich diet, adequate vitamin D supplementation and exercise.
A broken bone in the spine will go through the same stages of healing as any other broken bone. If the break is painful, medication to reduce the pain is usually prescribed during the acute stage. You may or may not be admitted to the hospital for the first few days of this stage. Admission to hospital will depend on the severity of your pain and the severity of the fracture. There are other procedures that your healthcare provider may suggest called kyphoplasty or vertebroplasty.
During the recovery process, it is important to remember that all pain hurts but not all pain is necessarily harmful. A consultation with a physical therapist or healthcare worker familiar with broken bones can help to guide you through your recovery process.
During the recovery process, many types of movement may be painful even when you use correct movement techniques. An important part of your recovery is to learn to carry out safe movement techniques that are done in a way that does not put any additional strain on the spine.

NEXT:
A Few Self-Help Guidelines For Day-to-Day Activities After A Spine Fracture
PREVIOUS:
What to Expect From Some Specific Types of Fracture: Hip Fracture