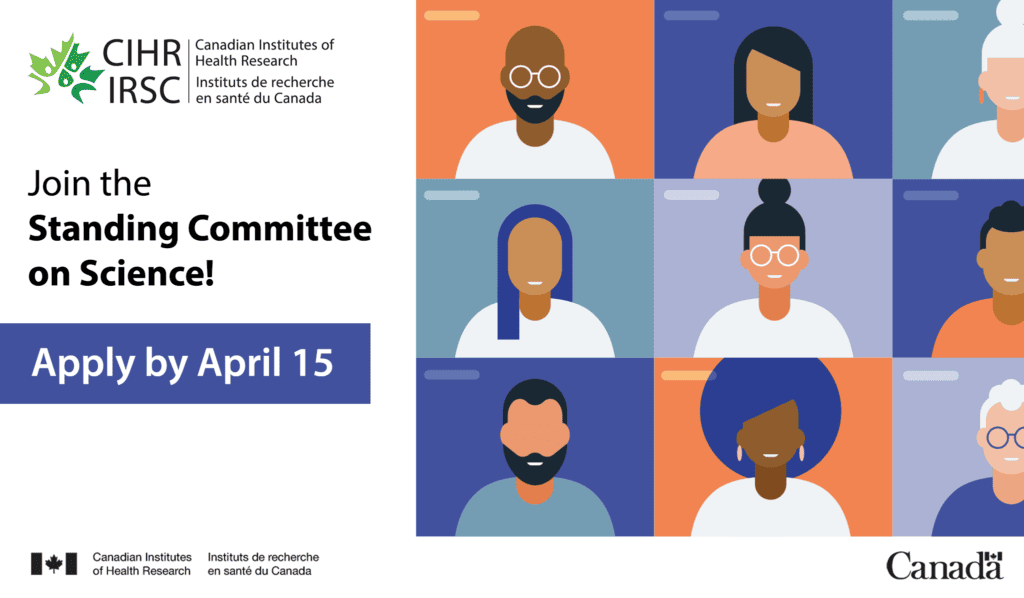 The Canadian Institutes of Health Research (CIHR) is seeking members for its new Standing Committee on Science. The committee will have a diverse membership made up of nationally and internationally recognized health research leaders who provide strategic science advice to CIHR's Governing Council, particularly on international best practices and emerging trends in health research and funding.
The committee will be composed of 9 to 12 members who will serve three-year terms. CIHR is looking for at least three international representatives and three national representatives preferably with experience with international health organizations. The committee will also include two Scientific Directors from CIHR's Institutes and one member of Governing Council.
This is a chance for you to help shape CIHR's strategic policy and ensure that Canada remains a global leader in health research.
Members from all communities are encouraged to apply, especially those from groups historically underrepresented in research, including Black, Indigenous, and racialized communities; LGBTQ2S+ communities; Francophone communities; and persons with disabilities.
Interested applicants can find more information, including how to apply, on the CIHR website.
If you have any questions, please reach out to CIHR at support-soutien@cihr-irsc.gc.ca .