Advocacy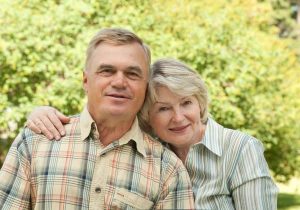 In keeping with our mission to educate, empower and support individuals and communities in the prevention and treatment of osteoporosis, Osteoporosis Canada communicates concerns about various aspects of care across Canada to provincial and federal governments. This is done through advocacy.
Breaking Barriers, Not Bones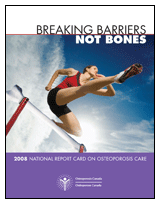 Osteoporosis Canada released its highly anticipated first national Report Card on osteoporosis care, Breaking Barriers, Not Bones on November 24, 2008.
The report is the first of its kind to assess and grade Canadians' access to osteoporosis medications (as of December 31, 2007) and access to publicly funded Bone Mineral Density (BMD) tests provided within the provinces and territories from April 1, 2006 to March 31, 2007.
Download our first national Report Card
Since the 2008 release of the first ever national report card on osteoporosis care in Canada, Breaking Barriers, Not Bones, Osteoporosis Canada has been meeting with provincial ministry officials across the country in an effort to improve provincial access to BMD, access to osteoporosis treatment, and the development of provincial osteoporosis programs. Provincial meetings to date include British Columbia, Alberta, Saskatchewan, Manitoba, Nova Scotia, Ontario and Newfoundland and Labrador.