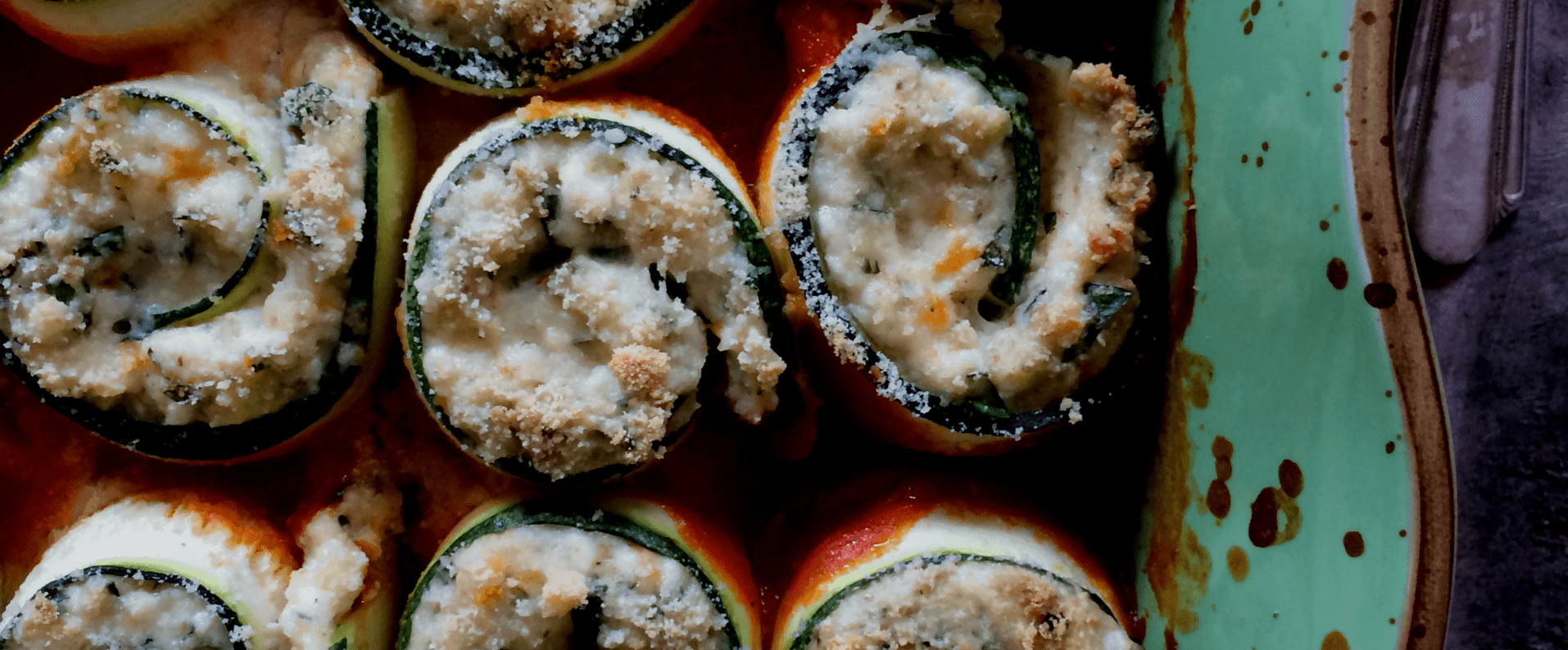 Prep Time:
20 mins
Cook Time:
40 mins
Serves:
18 rolls or 6 to 8 servings
Ingredients
Take a spin on lasagna and try these zucchini rolls. With all the flavour of lasagna you can serve this up as a main course or side dish with some extra pasta sauce alongside.
1 tub (475 g) ricotta cheese
1/2 cup (125 mL) seasoned breadcrumbs
2 eggs
1/4 cup (60 mL) each chopped fresh parsley and basil
2 cloves garlic, minced
1/4 tsp (1 mL) each salt and fresh ground pepper
1 cup (250 mL) tomato basil pasta sauce
3 zucchini, 7 inches (17.5 cm) long (about 1 1/4 lb/600 g)
1/4 cup (60 mL) grated Parmesan cheese
Preparation
In a bowl, stir together ricotta cheese, breadcrumbs, eggs, parsley, basil, garlic, salt and pepper; set aside.
Spread sauce over bottom of 11 x 7 inch (2 L) greased baking dish.
Thinly slice zucchini lengthwise and spread about 2 tbsp (30 mL) of the ricotta mixture over each zucchini slice. Roll up and place in baking dish. Sprinkle with Parmesan cheese.
Bake, uncovered in 375 F (190 C) oven for 45 minutes or until zucchini is tender and top is golden.
Nutritional Information (per serving)
Calories
180
Fat
8g
Saturated
8g
Cholesterol
70mg
Sodium
460mg
Carbohydrate
15g
Fibre
2g
Sugars
5g
Protein
12g
Vitamin A
20%
Vitamin C
25%
Calcium
25%
Iron
8%
*The percentage of calcium is based on the Osteoporosis Canada's daily calcium requirement for people under 50 years of age of 1000 mg.
Osteoporosis Canada's position on nutrition for healthy bones focuses on calcium and vitamin D while stressing a well-balanced diet which includes fiber and whole grains, vitamins and minerals and protein.
You will have a couple of zucchini slices left so be sure to chop them up and use them in soups, stews, frittatas or omelettes.