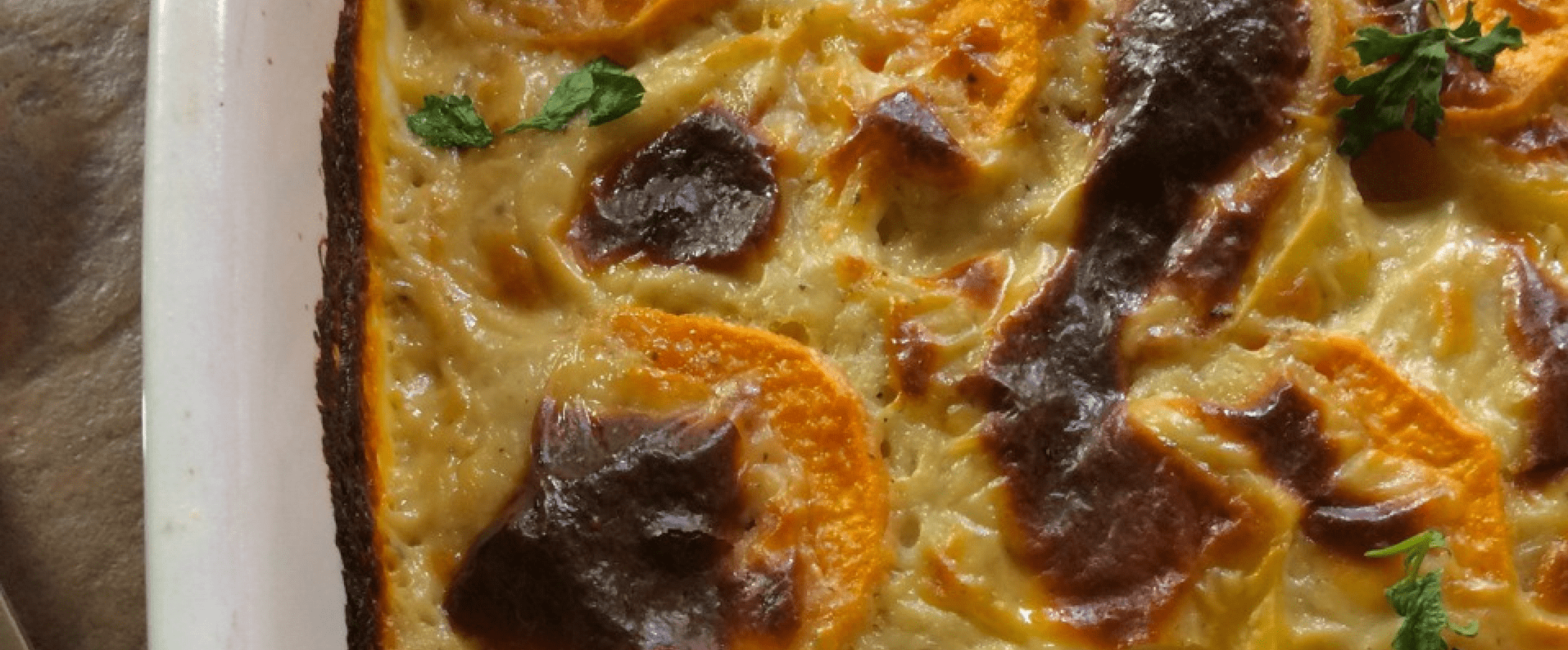 Prep Time:
20 mins
Cook Time:
1 hour 10 minutes
Serves:
6-8
Ingredients
A typical side dish that makes it to the table to sit alongside a ham is scalloped potatoes. They can be rich and decadent especially when people enjoy the cheese flavour. So this recipe has reduced fat and more nutritious vitamins with the addition of sweet potatoes to the mix.
2 tbsp (30 mL) canola oil
1/4 cup (50 mL) all purpose flour
3 cups (750 mL) skim milk, warmed
1/2 cup (125 mL) crumbled Stilton cheese
1 tsp (5 mL) Dijon mustard
1/2 tsp (2 mL) salt
1/4 tsp (1 mL) pepper
3 Yukon Gold potatoes, peeled and thinly sliced
2 small sweet potatoes, peeled and thinly sliced
1 small onion, thinly sliced
Preparation
Heat oil over medium-high heat in saucepan. Add flour and cook, stirring for 1 minute. Whisk in milk slowly and continue whisking gently for about 5 minutes or until mixture is thick enough to coat the back of a spoon. Remove from heat and add blue cheese, mustard, salt and pepper; whisk until smooth. Set aside.
Alternately layer Yukon Gold and sweet potatoes with onion in lightly greased or sprayed 13 x 9-inch (3L) casserole dish. Pour milk mixture evenly over potatoes.
Bake in 375 F (190 C) oven, uncovered for about 1 hour or until potatoes are golden brown and tender when pierced with a knife.
Nutritional Information (per serving)
Calories
271
Fat
8g
Saturated
3g
Trans
0g
Cholesterol
11mg
Sodium
453mg
Calcium
246mg/25%
Carbohydrate
40g
Fibre
4g
Sugars
10g
Protein
10g
Vitamin A
70%
Vitamin C
40%
Iron
10%
*The percentage of calcium is based on the Osteoporosis Canada's daily calcium requirement for people under 50 years of age of 1000 mg.
Osteoporosis Canada's position on nutrition for healthy bones focuses on calcium and vitamin D while stressing a well-balanced diet which includes fiber and whole grains, vitamins and minerals and protein.