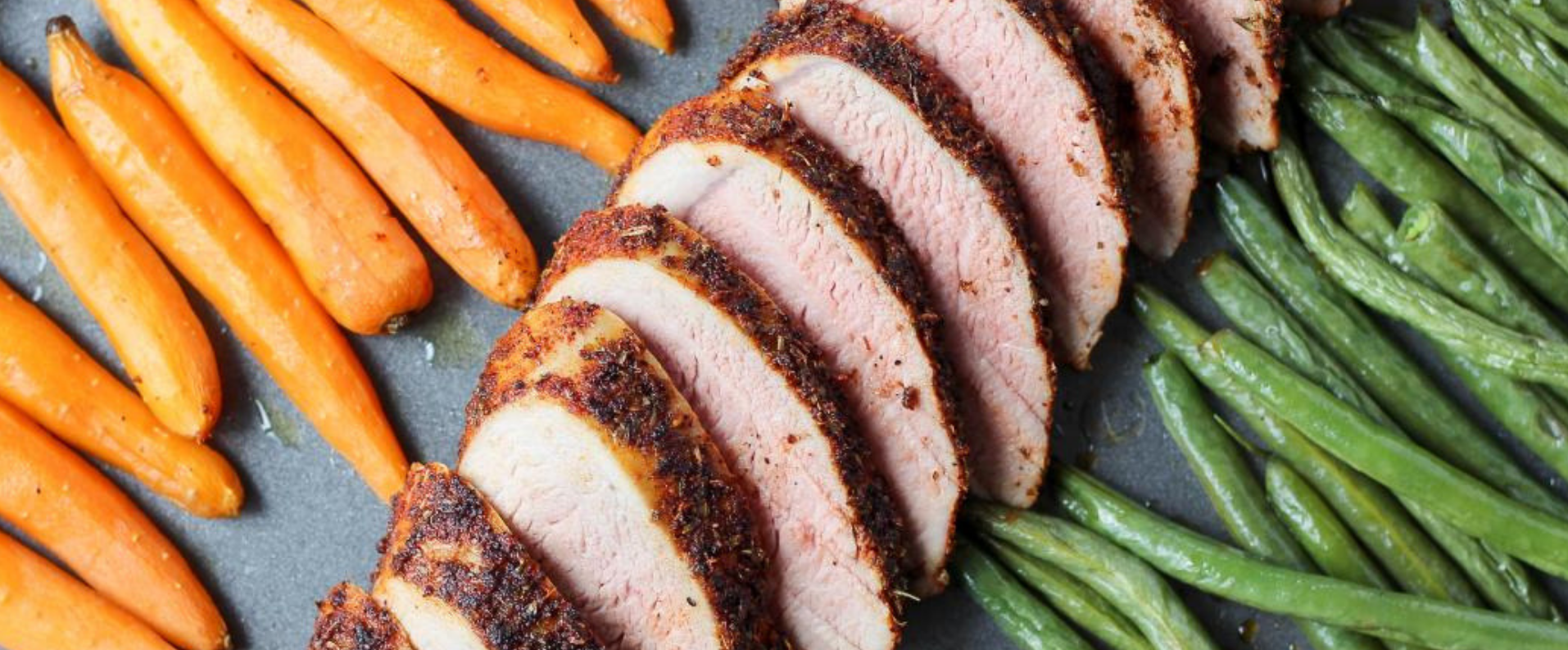 Prep Time:
20 mins
Cook Time:
30 mins
Serves:
2-4
Ingredients
1lb. pork tenderloin
1 tsp. garlic powder
1 tsp. dried oregano
1 tsp. ground cumin
1 tsp. chilli powder
1 tsp. smoked paprika
½ tsp. sea salt
1 tbsp. olive oil
Sides:
4 cups carrots, peeled
4 cups green beans, trimmed
2 tsp. olive oil
½ tsp. sea salt
Preparation
Preheat oven to 400°F.
Add peeled carrots and green beans to a bowl, drizzle with olive oil, season with sea salt and toss to ensure the vegetables are well coated. Set aside.
In a small bowl, combine garlic powder, oregano, cumin, chili powder, paprika and sea salt to create a rub.
Lay pork tenderloin on a cutting board, pat to dry, and rub spice mixture all over. Ensure that all sides and ends are coated with the dry rub.
On a large baking sheet, arrange carrots and greens beans and transfer to the oven for 5 minutes.
While the vegetables are in the oven, heat olive oil in a cast-iron pan or heavy bottom skillet and sear tenderloin on all sides. This should take about 2-3 minutes per side, for a total of 5-6 minutes.
After 5 minutes, remove the vegetables from the oven and nestle the seared pork tenderloin among the vegetables.
Return pork tenderloin and vegetables to the oven for another 15 minutes, until pork reaches an internal temperature of 150°F.
Once cooked, remove from the oven and allow pork to rest for 5-10 minutes before slicing.
Cut pork tenderloin crosswise into ½ inch-thick slices, and serve with roasted vegetables.
Sponsored by truLOCAL
Nutritional Information (per serving)
Calories
260
Fat
11g
Saturated
2.5g
Cholesterol
75mg
Sodium
510mg
Carbohydrate
11g
Fibre
4g
Protein
17g
Vitamin A
63%
Vitamin C
12%
Calcium
5%
Iron
12%
*The percentage of calcium is based on the Osteoporosis Canada's daily calcium requirement for people under 50 years of age of 1000 mg.
Osteoporosis Canada's position on nutrition for healthy bones focuses on calcium and vitamin D while stressing a well-balanced diet which includes fibre and whole grains, vitamins and minerals and protein.
Visit the Shop & Support page to order your truLOCAL for simple and convenient monthly meat delivery service with proceeds to Osteoporosis Canada.
Shop & Support