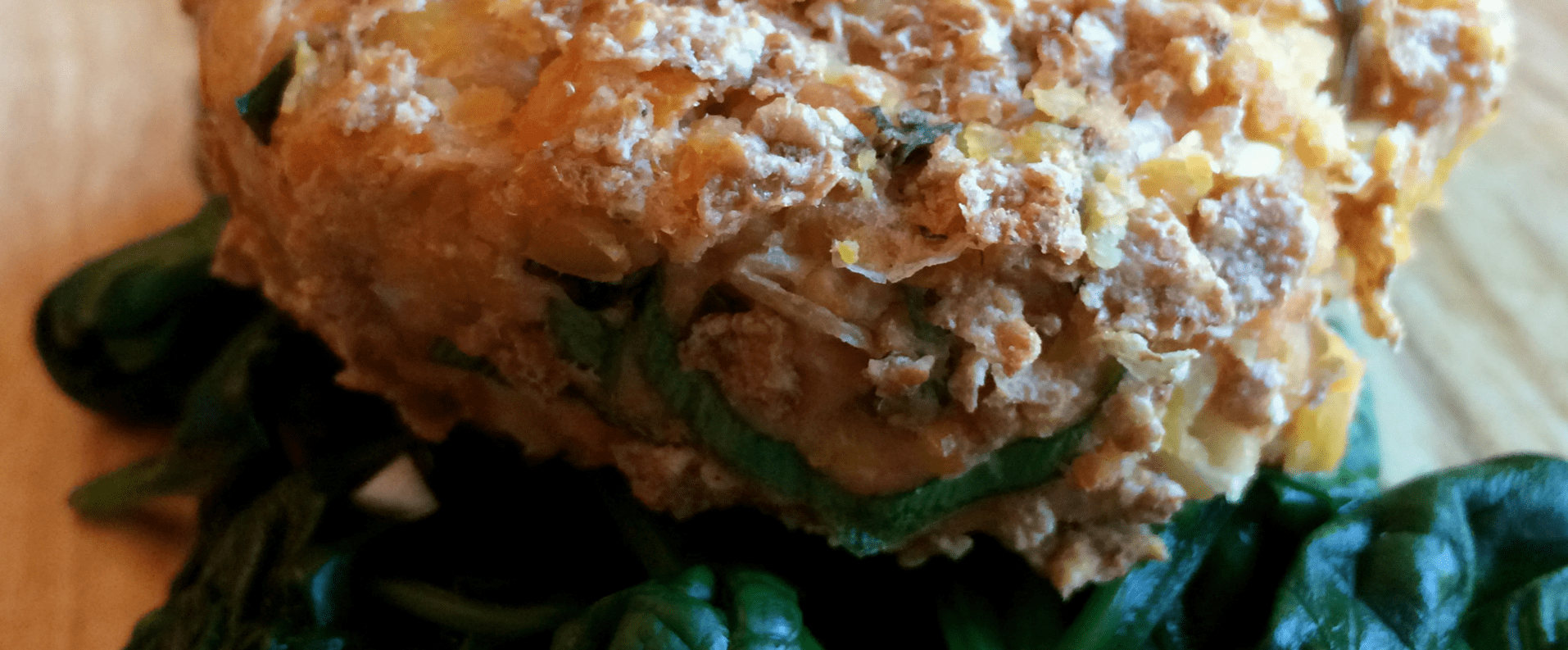 Prep Time:
10 mins
Cook Time:
10 mins
Serves:
6
Ingredients
Enjoy canned salmon for a family meal easily by extending it with canned beans. These easy cakes are great to enjoy over warm greens or tucked into a whole wheat bun as a burger.
1 can (213 g) wild red pacific/sockeye salmon, drained
1 can (19 oz/540 mL) no salt added chickpeas, drained and rinsed
2 green onions, chopped
3 cloves garlic, minced and divided
2 tbsp (25 mL) light mayonnaise
1/4 tsp (1 mL) hot pepper flakes
1/4 tsp (1 mL) dried marjoram leaves or dill weed
1 cup (250 mL) bran flakes, crushed
1 pkg (11 oz/300 g) baby spinach, rinsed with water clinging to leaves
Preparation
In a large bowl, using a potato masher, mash together salmon, including bones and chickpeas until fairly smooth. Stir in green onions, half of the garlic, mayonnaise, hot pepper flakes and marjoram.
Shape mixture into 6 patties and coat in bran flakes. Place on parchment paper lined baking sheet. Bake in preheated 425 F (220 C) oven for about 10 minutes or until heated through.
Meanwhile, in a large skillet wilt spinach with remaining garlic. Divide among plates and top with patties.
Nutritional Information (per serving)
Calories
184
Fat
6g
Saturated
1g
Trans
0g
Cholesterol
9mg
Sodium
256mg
Potassium
581mg
Carbohydrate
22g
Fibre
5g
Sugars
1g
Protein
12g
Vitamin A
50%
Vitamin C
25%
Calcium
15%
Iron
25%
*The percentage of calcium is based on the Osteoporosis Canada's daily calcium requirement for people under 50 years of age of 1000 mg.
Osteoporosis Canada's position on nutrition for healthy bones focuses on calcium and vitamin D while stressing a well-balanced diet which includes fiber and whole grains, vitamins and minerals and protein.