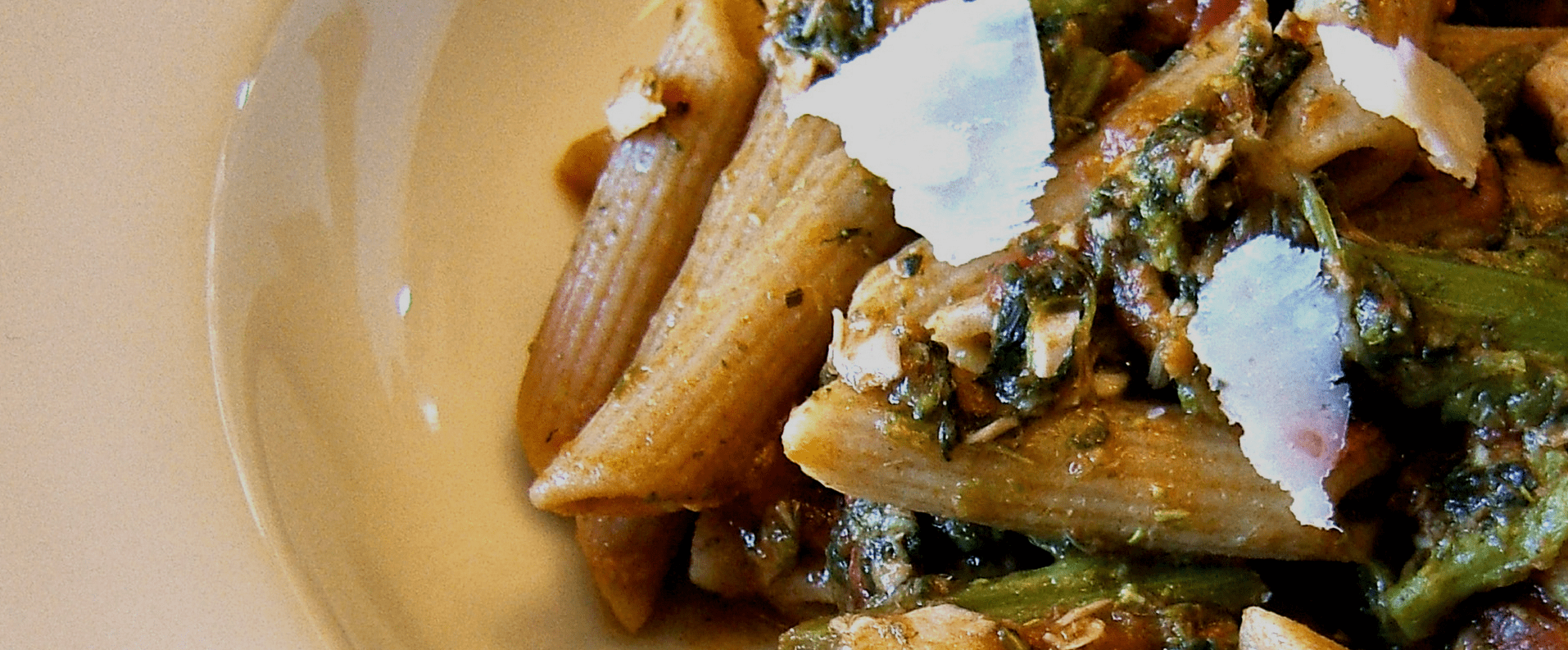 Prep Time:
20 mins
Cook Time:
25 mins
Serves:
6
Ingredients
Cooking greens like rapini ahead of time help remove some of the bitter flavour that most associate with it. Letting it cook in the sauce helps soften it and create a hearty sauce. Try this method with other greens like kale, collards and dandelion to enjoy more hearty greens.
1 bunch of rapini (about 454 g/1 lb), trimmed
1 tbsp (15 mL) extra virgin olive oil
4 cloves garlic, minced
1/2 tsp (2 mL) hot pepper flakes
1 cup (250 mL) canned diced tomatoes with juices
2 tbsp (30 mL) basil or sundried tomato pesto
2 cans (170 g each) low sodium light flaked tuna in water, drained
1 box (375 g) whole wheat, rice or spelt penne pasta
1/3 cup (75 mL) freshly grated Parmesan cheese
Preparation
Chop rapini into 1-inch (2.5 cm) pieces and place in pot of boiling water. Cook, stirring for about 10 minutes or until tender. Drain well and press any excess water out of rapini.
In large deep nonstick skillet, heat oil over medium high heat and cook rapini, garlic and hot pepper flakes for about 4 minutes or until starting to crisp. Add tomatoes, pesto and tuna and boil gently, stirring occasional for about 10 minutes or until thickened.
Meanwhile, in pot of boiling water cook pasta for about 10 minutes or until tender but firm. Drain well reserving 1/2 cup (125 mL) of the cooking water. Add pasta to the skillet and toss with sauce adding enough of the cooking water to moisten if necessary. Sprinkle with cheese to serve.
Nutritional Information (per serving)
Calories
394
Fat
9g
Saturated
2g
Trans
0g
Cholesterol
23mg
Sodium
251mg
Calcium
200mg/20%
Carbohydrate
52g
Fibre
8g
Sugars
4g
Protein
27g
Vitamin A
20%
Vitamin C
35%
Iron
35%
*The percentage of calcium is based on the Osteoporosis Canada's daily calcium requirement for people under 50 years of age of 1000 mg.
Osteoporosis Canada's position on nutrition for healthy bones focuses on calcium and vitamin D while stressing a well-balanced diet which includes fiber and whole grains, vitamins and minerals and protein.
Cook the rapini ahead of time and refrigerate it so you can make this simple recipe even quicker! Simply cook the rapini, drain well and remove excess water. Let cool and store in container in refrigerator for up to 3 days. Try this with your other greens too and start adding more to your dinner meals.
Substitute kale or collard greens for the rapini and cook as above until tender.
Omit tuna and substitute canned salmon with recipe and mash gently with bones before combining.