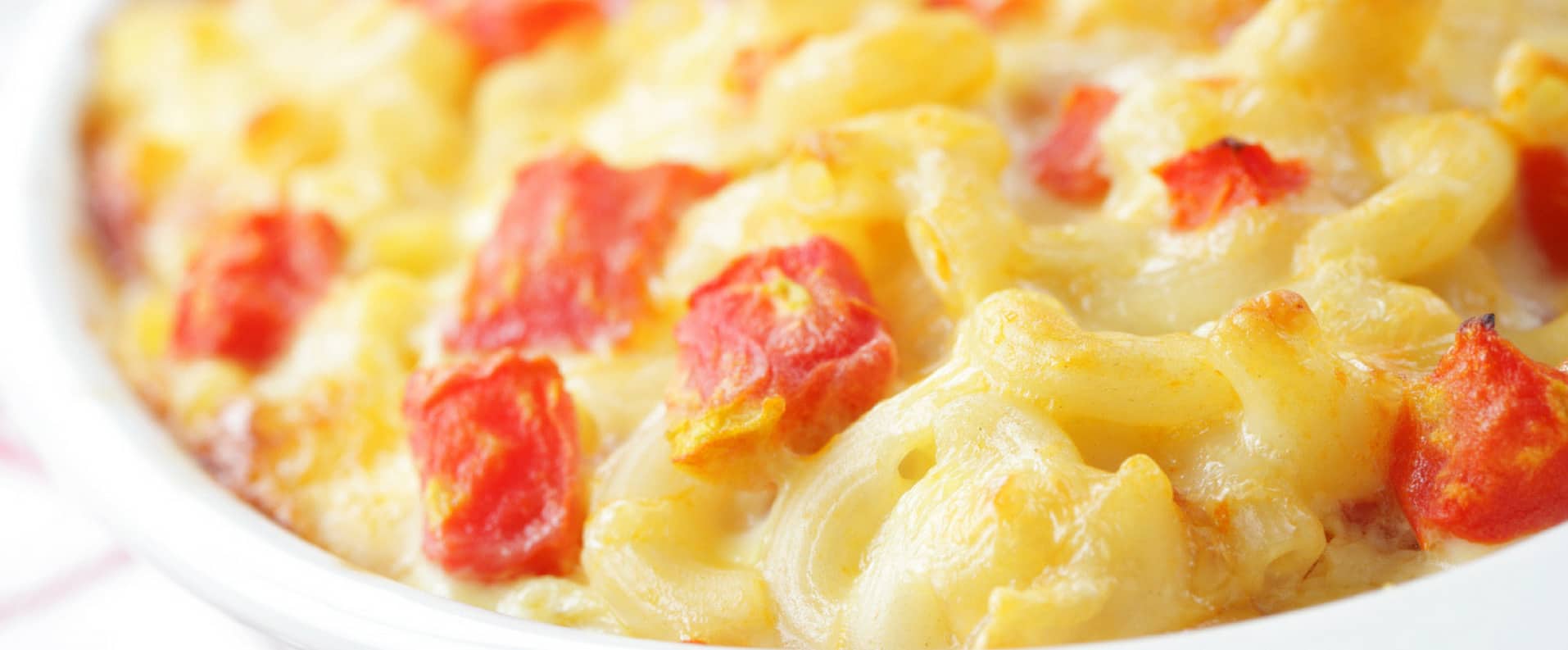 Prep Time:
20 mins
Cook Time:
20 mins
Serves:
4
Ingredients
This sauce is very creamy and chock full of vegetables and colour. If you don't have time to cut the vegetables small, simply chop them larger and let them cook a bit longer so they are soft throughout.
1 1/2 cups (375 mL) whole wheat macaroni or fusilli
2 tsp (10 mL) soft non hydrogenated margarine
1 small onion, finely chopped
2 cloves garlic, minced
1 carrot, finely chopped
1/2 cup (125 mL) finely chopped red pepper
1/2 cup (125 mL) grated zucchini
2 tbsp (30 mL)) all purpose flour
2 cups (500 mL) skim milk
1 tsp (5 mL) chopped fresh thyme or 1/2 tsp (2 mL) dried thyme leaves
1 cup (250 mL) shredded light old Cheddar cheese
1 tsp (5 mL) Dijon mustard
Pinch fresh ground pepper
Preparation
In a pot, bring water to boil. Add macaroni and cook for about 6 minutes or until pasta is tender but firm. Drain well and set aside.
In a large saucepan, heat margarine over medium heat and cook onion and garlic for 1 minute. Add carrot, red pepper and zucchini and cook, stirring for about 5 minutes or until softened. Stir in flour and cook, stirring until flour is absorbed. Slowly pour in milk and thyme; stir until smooth. Cook, stirring for about 5 minutes or until starting to bubble. Stir in cheese, mustard and pepper. Remove from heat and stir until melted and smooth. Stir in cooked macaroni until well coated.
Nutritional Information (per serving)
Calories
322
Fat
8g
Saturated
4g
Trans
0g
Cholesterol
19mg
Sodium
334mg
Carbohydrate
45g
Fibre
4g
Sugars
10g
Protein
20g
Vitamin A
50%
Vitamin C
58%
Calcium
42%
Iron
13%
*The percentage of calcium is based on the Osteoporosis Canada's daily calcium requirement for people under 50 years of age of 1000 mg.
Osteoporosis Canada's position on nutrition for healthy bones focuses on calcium and vitamin D while stressing a well-balanced diet which includes fiber and whole grains, vitamins and minerals and protein.
Frozen Vegetable Option: Omit carrot, red pepper and zucchini and substitute 2 cups (500 mL) diced or mixed frozen vegetables in the sauce.