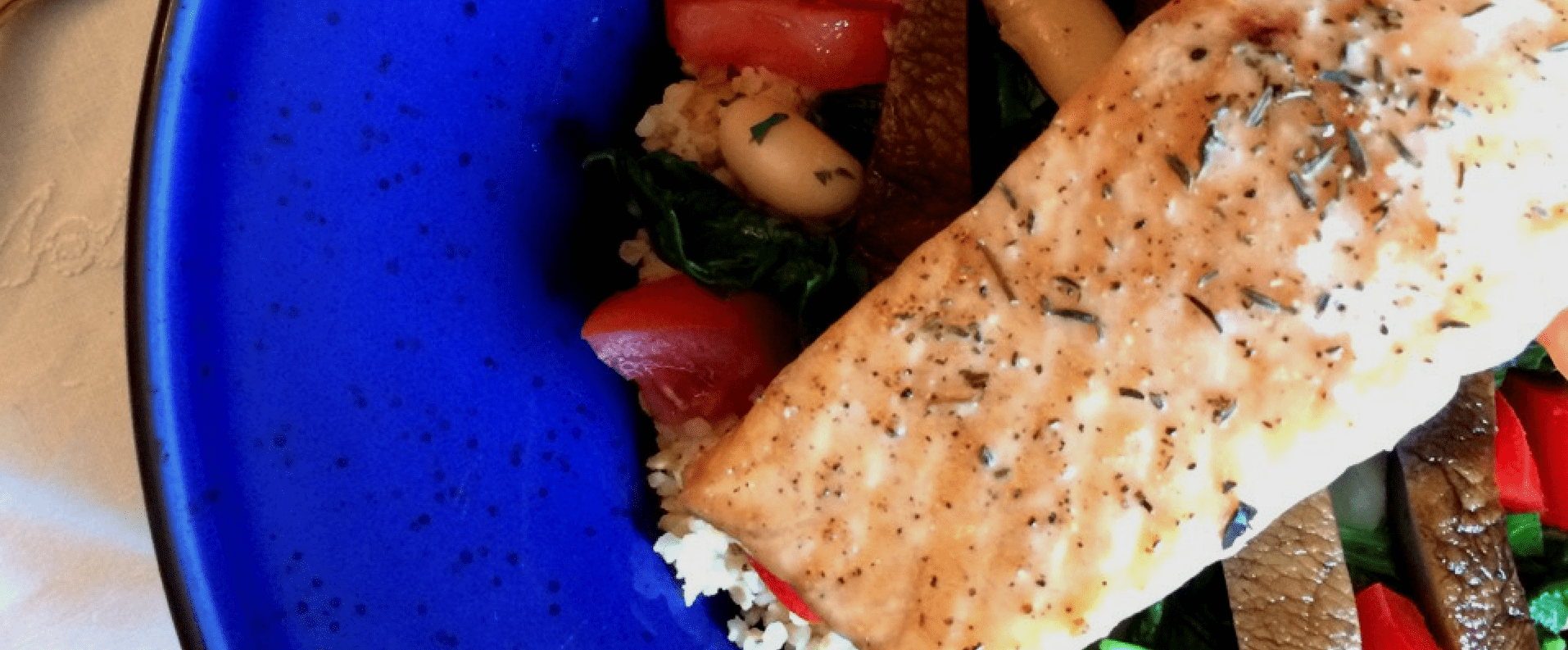 Prep Time:
10 mins
Cook Time:
5 mins
Serves:
4
Ingredients
A mixture of greens, white beans and salmon make for a filling dinner with lots of flavour and texture.
1 tub (312 g) cooking greens (which include baby kale, spinach and arugula)
1/2 cup (125 mL) sodium reduced vegetable broth
2 tsp (10 mL) extra virgin olive oil
4 cloves garlic, minced
1 can (398 mL) white kidney beans, drained and rinsed
1 red bell pepper, chopped
1 tsp (5 mL) finely grated lemon rind
2 tbsp (30 mL) lemon juice
3 tbsp (45 mL) chopped fresh parsley
2 cups (500 mL) cooked bulgur, reheated
2 cooked Portobello mushrooms, sliced
1 tomato, chopped
4 salmon fillets, roasted (optional)
Preparation
COMBINE greens and broth in large nonstick skillet and sauté until wilted. Add oil and garlic, cook; stirring for 2 minutes.
STIR in beans, pepper, lemon rind and juice; cook for 1 minute to heat through. Remove from heat and stir in parsley.
DIVIDE bulgur among 4 bowls and top with greens mixture, mushrooms and tomato. Place salmon fillets over top if using to serve.
Nutritional Information (per serving)
Calories
290
Fat
6g
Saturated
1g
Trans
0g
Cholesterol
0mg
Sodium
270mg
Potassium
685mg
Calcium
174mg/17%
Carbohydrate
52g
Fibre
13g
Sugars
5g
Protein
13g
Vitamin A
10%
Vitamin C
110%
Iron
25%
*The percentage of calcium is based on the Osteoporosis Canada's daily calcium requirement for people under 50 years of age of 1000 mg.
Osteoporosis Canada's position on nutrition for healthy bones focuses on calcium and vitamin D while stressing a well-balanced diet which includes fiber and whole grains, vitamins and minerals and protein.