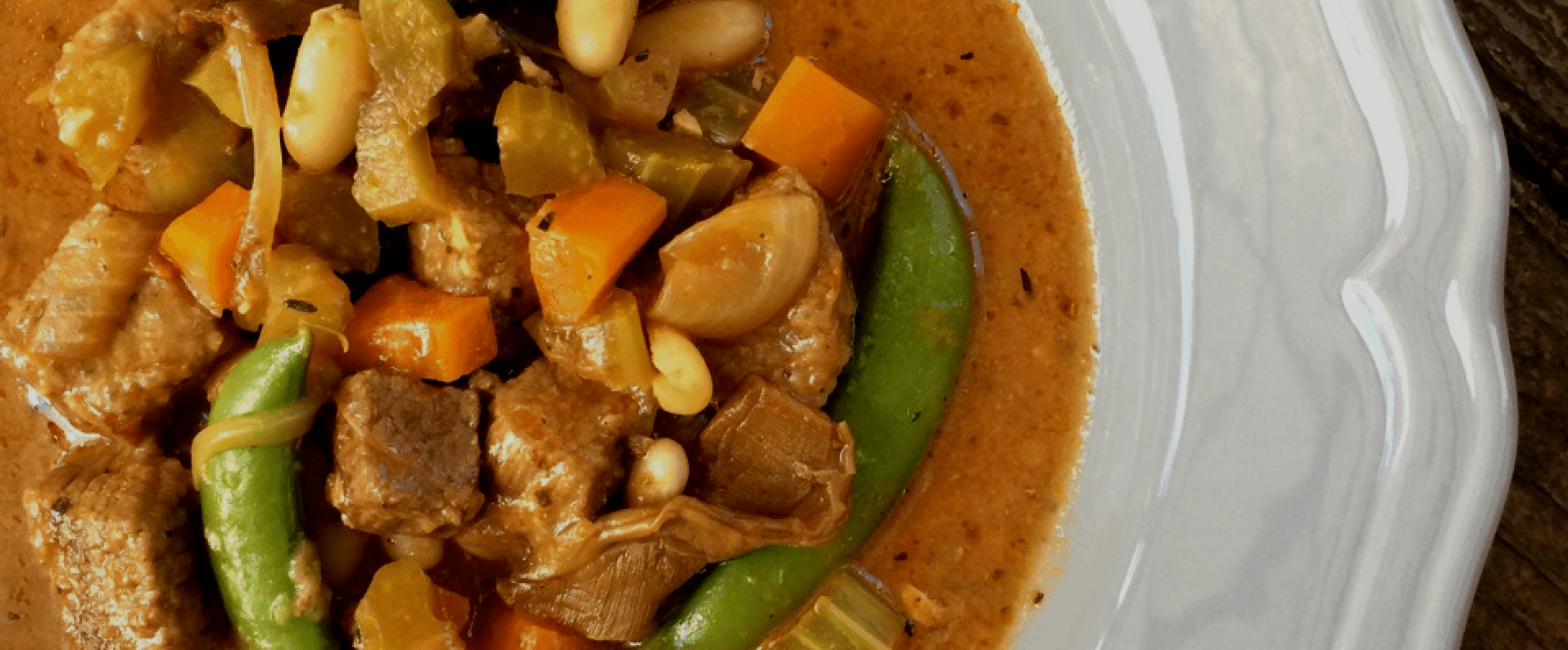 Prep Time:
20 mins
Cook Time:
1 hour 45 minutes
Serves:
6
Ingredients
Veal is a lean meat that melts in your mouth after long cooking. You can use beef or pork in this recipe instead. Serve over rice or couscous with a tossed salad.
1 1/2 lbs(750 g) lean boneless veal shoulder
2 tbsp (30 mL) all-purpose flour
2 tsp (10 mL) Italian herb seasoning
1/2 tsp (2 mL) each salt and pepper
2 tbsp (30 mL) canola oil
2 onions, sliced
4 cloves garlic, minced
1 each stalk celery and carrot, chopped
2 cups (500 mL) beef stock
1 cup (250 mL) whole milk
1/4 cup (60 mL) dried porcini mushrooms
1/4 cup (60 mL) tomato paste
1 tbsp (15 mL) Worcestershire sauce
1 can (19 oz/540 mL) white kidney beans, drained and rinsed
1 cup (250 mL) snow peas, halved
Preparation
Trim veal of any visible fat. Cut into 1-inch cubes; set aside.
In shallow dish or pie plate combine flour, Italian herb seasoning, salt and pepper. Toss veal with flour mixture.
Heat oil in large shallow pot over medium-high heat. Brown veal in batches and remove to plate. Reduce heat to medium and cook onion, garlic, celery, carrot and any remaining flour mixture for 5 minutes or until starting to get golden and softened. Add stock, milk, mushrooms, tomato paste and Worcestershire sauce. Bring to boil; return veal to pot.
Reduce heat to simmer, cover and cook for about 1 hour or until veal is tender. Uncover and add beans and peas. Cook for another 15 minutes or until snow peas are tender crisp.
Nutritional Information (per serving)
Calories
376
Fat
12g
Saturated
3g
Cholesterol
104mg
Sodium
646mg
Carbohydrate
28g
Fibre
6g
Sugars
8g
Protein
37g
Vitamin A
15%
Vitamin C
30%
Calcium
15%
Iron
35%
*The percentage of calcium is based on the Osteoporosis Canada's daily calcium requirement for people under 50 years of age of 1000 mg.
Osteoporosis Canada's position on nutrition for healthy bones focuses on calcium and vitamin D while stressing a well-balanced diet which includes fiber and whole grains, vitamins and minerals and protein.