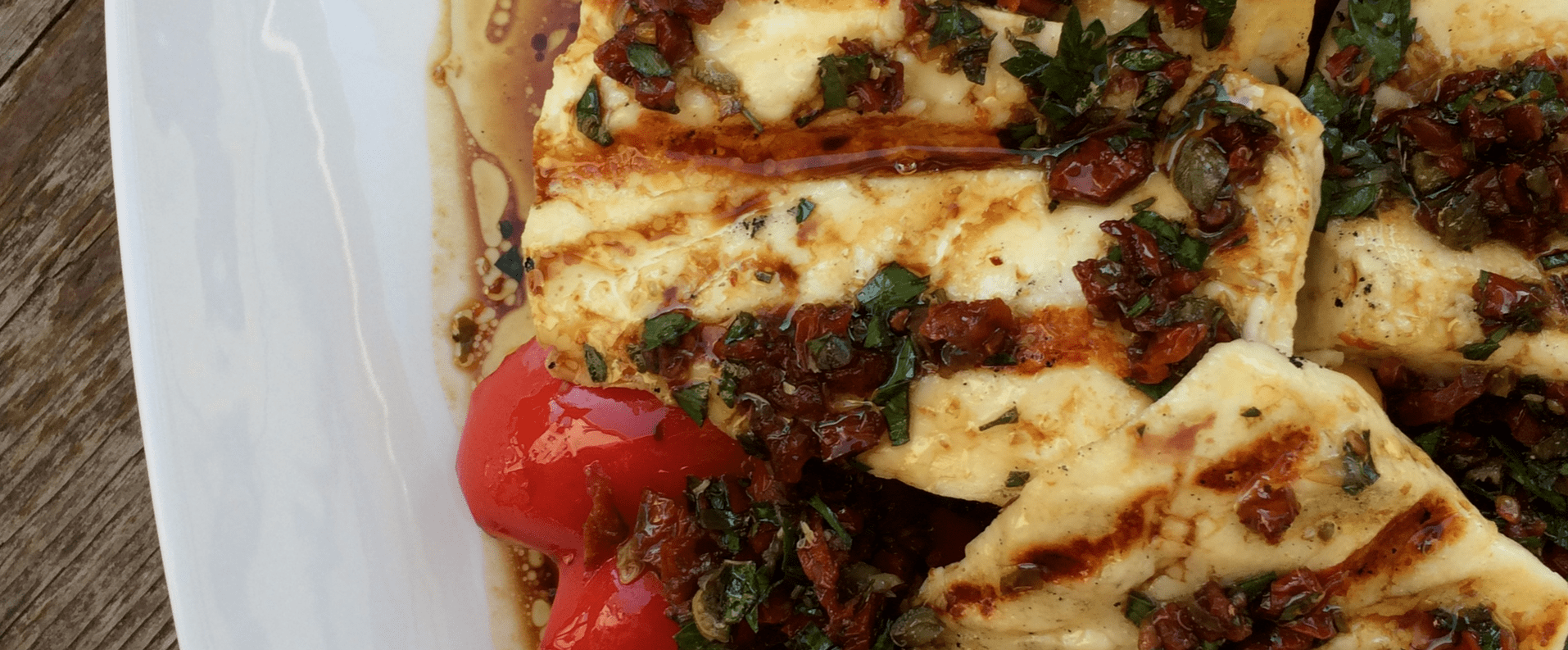 Prep Time:
15 mins
Cook Time:
10 mins
Serves:
4
Ingredients
This is a light dinner for two that showcases tons of flavour and colour. You can find halloumi cheese in the cheese aisle at your grocery store. Be sure to have some baguette slices nearby to sop up all the yummy juices.
1 each red and yellow bell pepper, quartered
1 pkg (250 g) halloumi cheese
1/4 cup (60 mL) extra virgin olive oil, divided
2 tbsp (30 mL) aged balsamic vinegar
2 tbsp (30 mL) chopped sundried tomatoes
1 tbsp (15 mL) chopped fresh parsley or basil
1 tbsp (15 mL) lemon juice
1 tsp (5 mL) minced capers
1 small clove garlic, minced (optional)
Pinch each hot pepper flakes and salt
Preparation
Slice halloumi in 4 lengthwise pieces and place on plate with peppers. Drizzle both with 1 tbsp (15 ml) of the oil.
In a bowl, stir together remaining oil, vinegar, sundried tomatoes, parsley, lemon juice, capers, garlic, if using, hot pepper flakes and salt. Set aside.
Grill halloumi and peppers over medium high heat on well-greased grill for about 8 minutes or until grill marks appear and cheese is softening. Return to plate decoratively.
Spoon oil mixture over top of cheese and peppers and let stand for 5 minutes before serving.
Nutritional Information (per serving)
Calories
366
Fat
31g
Saturated
13g
Trans
0g
Cholesterol
63mg
Sodium
821mg
Carbohydrate
9g
Fibre
1g
Sugars
3g
Protein
14g
Vitamin A
10%
Vitamin C
220%
Calcium
30%
Iron
4%
*The percentage of calcium is based on the Osteoporosis Canada's daily calcium requirement for people under 50 years of age of 1000 mg.
Osteoporosis Canada's position on nutrition for healthy bones focuses on calcium and vitamin D while stressing a well-balanced diet which includes fiber and whole grains, vitamins and minerals and protein.