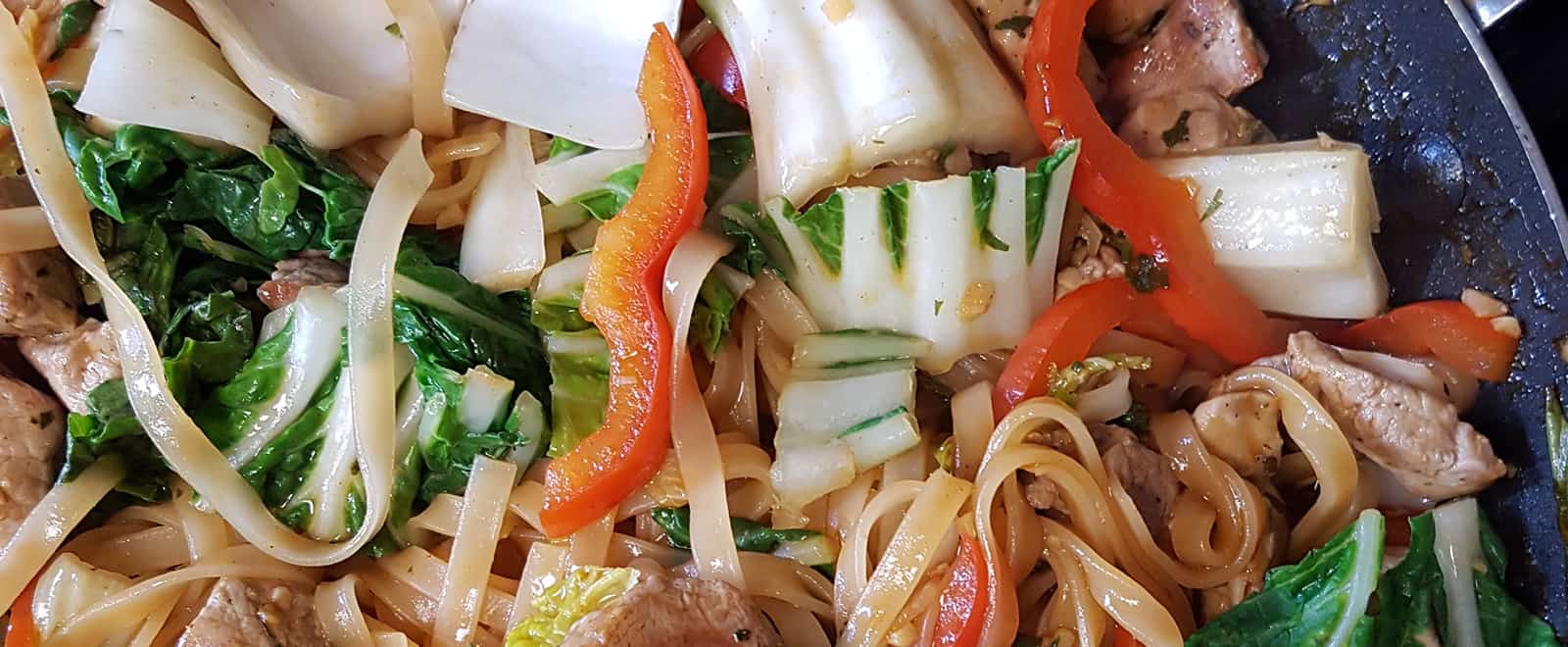 Prep Time:
20 MIN
Cook Time:
15 MIN
Serves:
4
Ingredients
With a slight kick of heat this gluten free stir fry of rice noodles and pork is flavourful and full of colour with the addition of vegetables. Making your own stir fry sauce helps to control the flavour and heat. Omit the sriracha sauce for a milder version.
1 pork tenderloin (about 1 lb/454 g), cut into bite size cubes

1 tbsp (15 mL) sesame oil

1 tbsp (15 mL) each chopped fresh cilantro and ginger

Pinch each salt and pepper

8 oz (250 g) rice vermicelli noodles (pad Thai noodles)

1 tbsp (15 mL) canola oil

1 lb (454 g) baby bok choy, coarsely chopped

1 red bell pepper, thinly sliced

1 green onion, thinly sliced
General Tao Sauce:
1/4 cup (60 mL) tamari or soy sauce

1/4 cup (60 mL) vegetable broth

3 tbsp (45 mL) rice vinegar

2 tbsp (30 mL) granulated sugar

1 tbsp (15 mL) cornstarch

2 cloves garlic, minced

1 tsp (5 mL) paprika

1 tsp (5 mL) each sesame oil and sriracha sauce
Preparation
General Tao Sauce: In a bowl, whisk together tamari, broth, vinegar, sugar, cornstarch, garlic, paprika, sesame oil and sriracha; set aside.
In a large bowl, coat pork cubes with sesame oil, cilantro, ginger, salt and pepper.
In a pot of simmering water, cook noodles for 3 minutes. Rinse with cool water and drain well.
In a large nonstick skillet, heat canola oil and sauté bok choy, red pepper and green onion for 4 minutes or until bok choy is wilted. Remove to bowl.
Return skillet to medium-high heat and add pork. Brown pork well. Add sauce and bring to a simmer. Return vegetables and noodles to skillet and simmer until sauce thickens. Toss well with pork and vegetables until coated and heated through and hint of pink remains in pork.
Sponsored by:
Nutritional Information (per serving)
Calories
520
Fat
14g
Saturated
3g
Cholesterol
80mg
Sodium
1330mg
Calcium
150mg
Carbohydrate
62g
Fibre
3g
Sugars
10g
Protein
34g
Vitamin A
8%
Vitamin C
106%
Iron
17%
**The percentage of calcium is based on the Osteoporosis Canada's daily calcium requirement for people under 50 years of age of 1000 mg.
Osteoporosis Canada's position on nutrition for healthy bones focuses on calcium and vitamin D while stressing a well-balanced diet which includes fiber and whole grains, vitamins and minerals and protein.
Tip: To reduce sodium in the recipe, look for sodium reduced products.