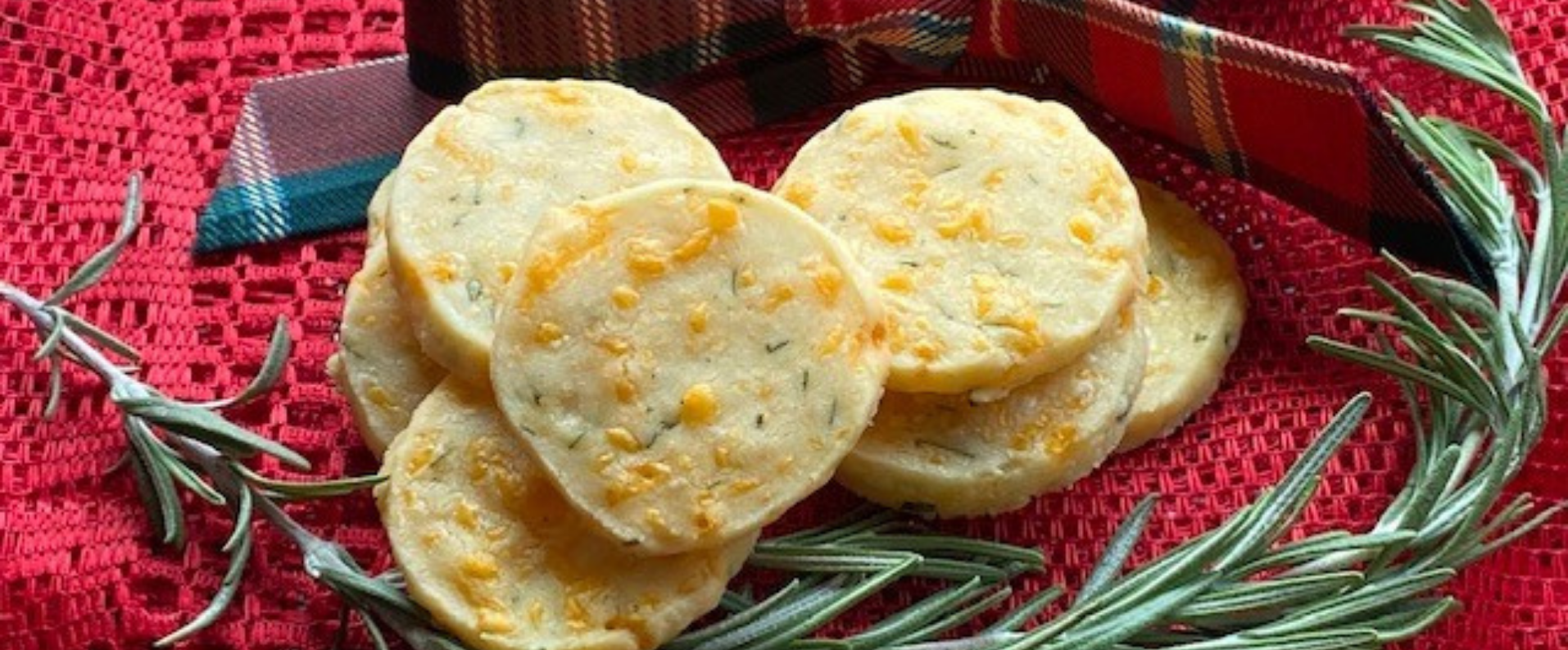 Prep Time:
10 mins
Cook Time:
15 mins
Serves:
2 ½ dozen shortbread pieces
Ingredients
A holiday treat to share with you! These are the perfect little morsels to share on a cheese tray with holiday drinks.
1/2 cup (125 mL) butter, softened

3/4 cup (175 mL) shredded old cheddar cheese

1 clove garlic, minced

1 Tbsp (15 mL) chopped fresh basil

1 tsp (5 mL) chopped fresh rosemary

1 cup (250 mL) all-purpose flour
Preparation
In a large bowl, using an electric hand mixer; beat butter until almost white in colour. Beat in cheese, garlic, basil and rosemary until smooth. Stir in flour until ragged dough starts to form.
Using hands, knead dough to come together. Roll into a 9 inch (22.5 cm) log and wrap with plastic wrap. Refrigerate for at least 1 hour or until firm. Make-ahead: Log can be frozen for up to 2 weeks.
Slice log into 1/4 inch (5 mm) rounds and place onto parchment paper-lined baking sheet. Bake in preheated 350 F (180 C) oven for 10 to 15 minutes or until lightly golden. Let cool.
Nutritional Information (per serving)
Calories
50
Fat
4g
Saturated
2.5g
Cholesterol
10mg
Sodium
40mg
Calcium
30mg
Carbohydrate
3g
Fibre
0g
Sugars
0g
Protein
1g
Vitamin A
4%
Vitamin C
0%
Iron
1%
*The percentage of calcium is based on the Osteoporosis Canada's daily calcium requirement for people under 50 years of age of 1000 mg.
Osteoporosis Canada's position on nutrition for healthy bones focuses on calcium and vitamin D while stressing a well-balanced diet which includes fiber and whole grains, vitamins and minerals and protein.
Tip:
If fresh herbs are not available substitute 1/2 tsp (2 mL) each dried basil and rosemary leaves.