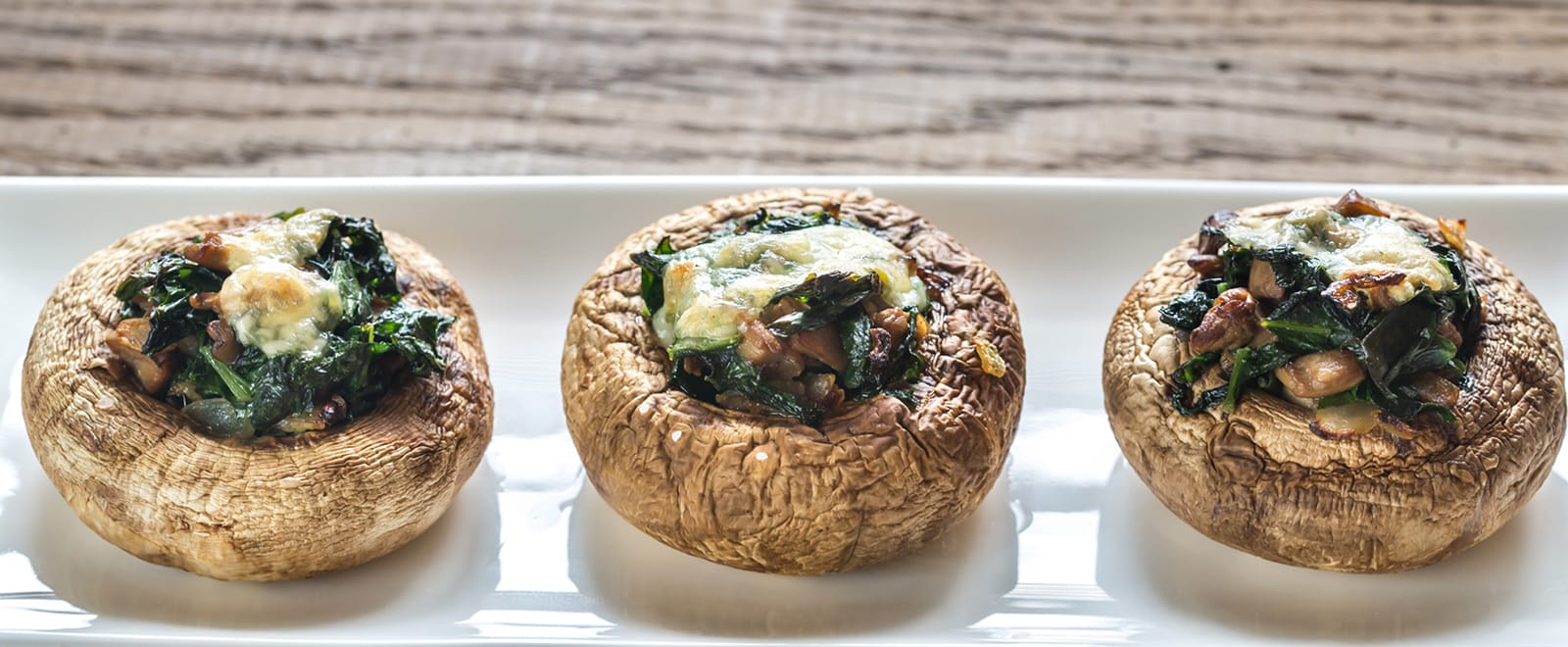 Prep Time:
20 MIN
Cook Time:
30 MIN
Serves:
6
Ingredients
Enjoy these stuffed mushrooms as an appetizer or serve them up as a delicious side or vegetarian main course. For the avid grillers, cook them on your outdoor grill for a smoky addition of flavour.
10 portobello mushrooms (about 4 inches/10 cm in diameter)

1 tbsp (15 mL) canola oil

1 onion, finely chopped

4 cloves garlic, minced

1/2 tsp (2 mL) salt

6 cups (1.5 L) lightly packed fresh baby kale, chopped or chopped Swiss chard

3 tbsp (45 mL) chopped fresh dill

1 cup (250 mL) crumbled feta cheese

1/3 cup (75 mL) seasoned dry breadcrumbs
Preparation
Remove stems from the mushrooms and chop finely. Using a small spoon scrape out the dark gills of the mushroom caps and discard,
Place 6 of the mushroom caps, cup side up on a parchment paper lined baking sheet.
Finely chop remaining 4 mushrooms and add to chopped stems. Preheat oven to 400 F (200 C).
In a large nonstick skillet, heat oil over medium high heat and cook onion, garlic and chopped mushrooms, stems and salt for about 8 minutes or until softened and golden. Stir in kale and dill; cook for about 4 minutes or until wilted. Stir in feta and breadcrumbs to combine. Spoon mixture into mushrooms caps.
Bake for about 18 minutes or until mushrooms are tender and cheese is slightly golden.
Sponsored by:
Nutritional Information (per serving)
Calories
200
Fat
9g
Saturated
4g
Cholesterol
20mg
Sodium
660mg
Calcium
225mg
Carbohydrate
22g
Fibre
5g
Sugars
10g
Protein
12g
Vitamin A
15%
Vitamin C
40%
Iron
11%
*The percentage of calcium is based on the Osteoporosis Canada's daily calcium requirement for people under 50 years of age of 1000 mg.
Osteoporosis Canada's position on nutrition for healthy bones focuses on calcium and vitamin D while stressing a well-balanced diet which includes fiber and whole grains, vitamins and minerals and protein.
Tip: Make these mushrooms ahead of time by preparing them and refrigerating them for up to 4 hours until you are ready bake them.