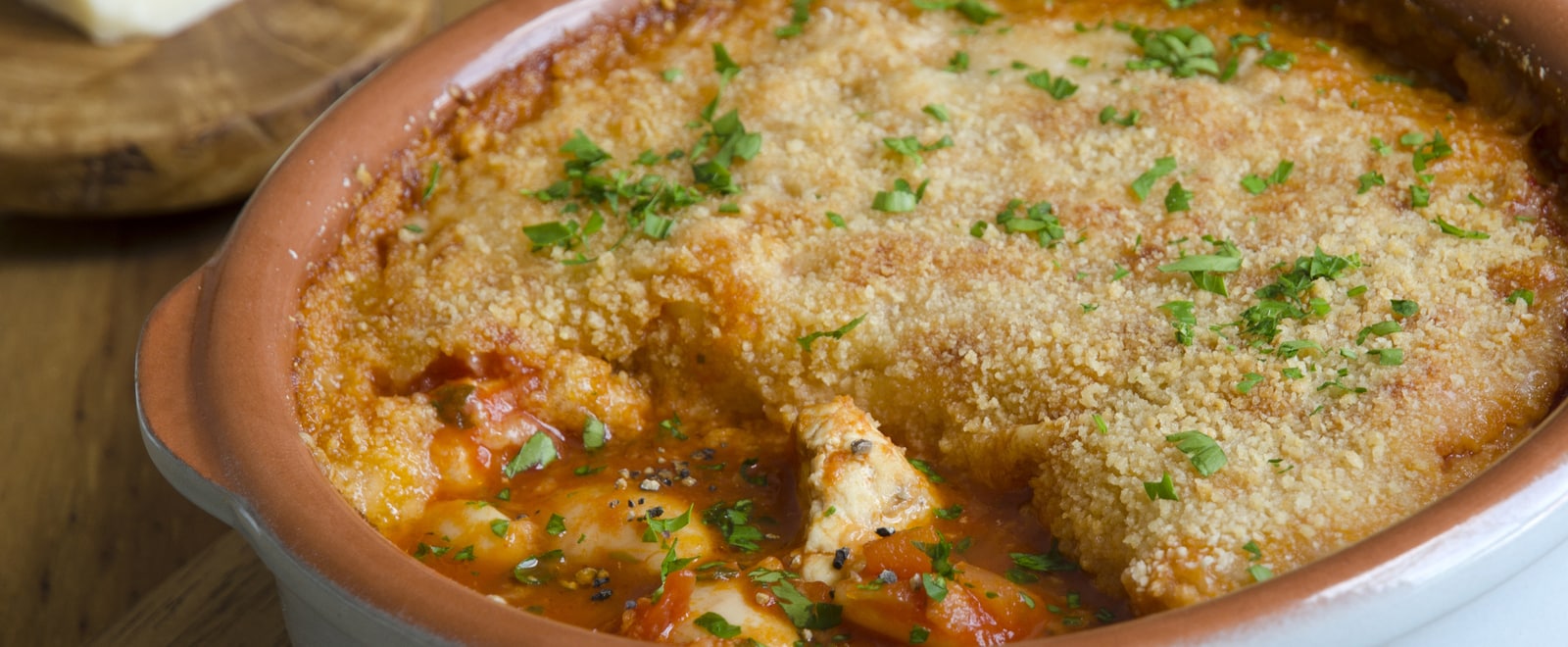 Prep Time:
20 MIN
Cook Time:
40 MIN
Serves:
10 - 12
Ingredients
This is a fabulous meal on a cool fall or winter evening to share with family and friends. Using boneless chicken thighs makes it easy to serve up. Make sure to have your favourite white wine to serve alongside. This is a great meal for a gathering or to cook once and eat twice or three times!
8 slices bacon, chopped
3 lb (1.5 kg) boneless skinless chicken thighs
6 cloves garlic, minced
4 carrots, sliced
2 onions, chopped
2 stalks celery, chopped
1 can (28 oz/796 mL) diced tomatoes
1 cup (250 mL) chicken broth
1 bay leaf
2 tsp (10 mL) each chopped fresh rosemary and thyme leaves
1/2 tsp (2 mL) each salt and pepper
2 cans (19 oz/540 mL each) cannellini or white kidney beans, drained and rinsed
Topping:
3 cups (750 mL) fresh bread crumbs
1/2  cup (125 mL) chopped fresh parsley
1/3 cup (75 mL) grated Parmesan cheese
1/4 cup (60 mL) butter, melted
Preparation
In a large Dutch oven, cook bacon over medium-high heat until crisp. Remove with slotted spoon to a paper towel lined plate; set aside. Return pot to medium high heat and brown chicken all over, in batches if necessary; remove to another plate.
Reduce heat to medium; cook garlic, carrots, onions and celery, stirring for about 8 minutes or until softened. Add tomatoes, chicken broth, bay leaf, rosemary, thyme, salt and pepper, stirring to scrape up brown bits. Bring to a boil.
Add beans, cooked bacon and browned chicken to vegetables; return to a simmer. Cover and simmer for about 20 minutes or until juices run clear when chicken is pierced. Discard bay leaf.
Transfer to a large casserole dish or two small. (Make-ahead: Cool in refrigerator and then cover and refrigerate for up to 1 day or store in airtight container and freeze for up to 2 months.)
Topping: In a bowl, combine bread crumbs, parsley, cheese and butter; sprinkle over Cassoulet. Broil about 6 inches (15 cm) from heat for about 2 minutes or until bread crumbs are golden brown.
Sponsored by:
Nutritional Information (per serving)
Calories
460
Fat
22g
Saturated
9g
Cholesterol
105mg
Sodium
900mg
Calcium
175mg
Carbohydrate
29g
Fibre
7g
Sugars
6g
Protein
36g
Vitamin A
39%
Vitamin C
11%
Iron
21%
*The percentage of calcium is based on the Osteoporosis Canada's daily calcium requirement for people under 50 years of age of 1000 mg.
Osteoporosis Canada's position on nutrition for healthy bones focuses on calcium and vitamin D while stressing a well-balanced diet which includes fiber and whole grains, vitamins and minerals and protein.
Tip: If not serving this immediately you can reheat it with topping in 350 F (180 C) oven for about 30 minutes or until bubbly and heated through. If freezing Cassoulet, thaw in refrigerator before baking. Add additional cooking time to heat through.
Tip: To make fresh breadcrumbs, use fresh sliced bread or buns and pulse in a food processor until broken into small crumbs. Measure what you need and freeze the rest, you will have fresh breadcrumbs at the ready from the freezer for next time.