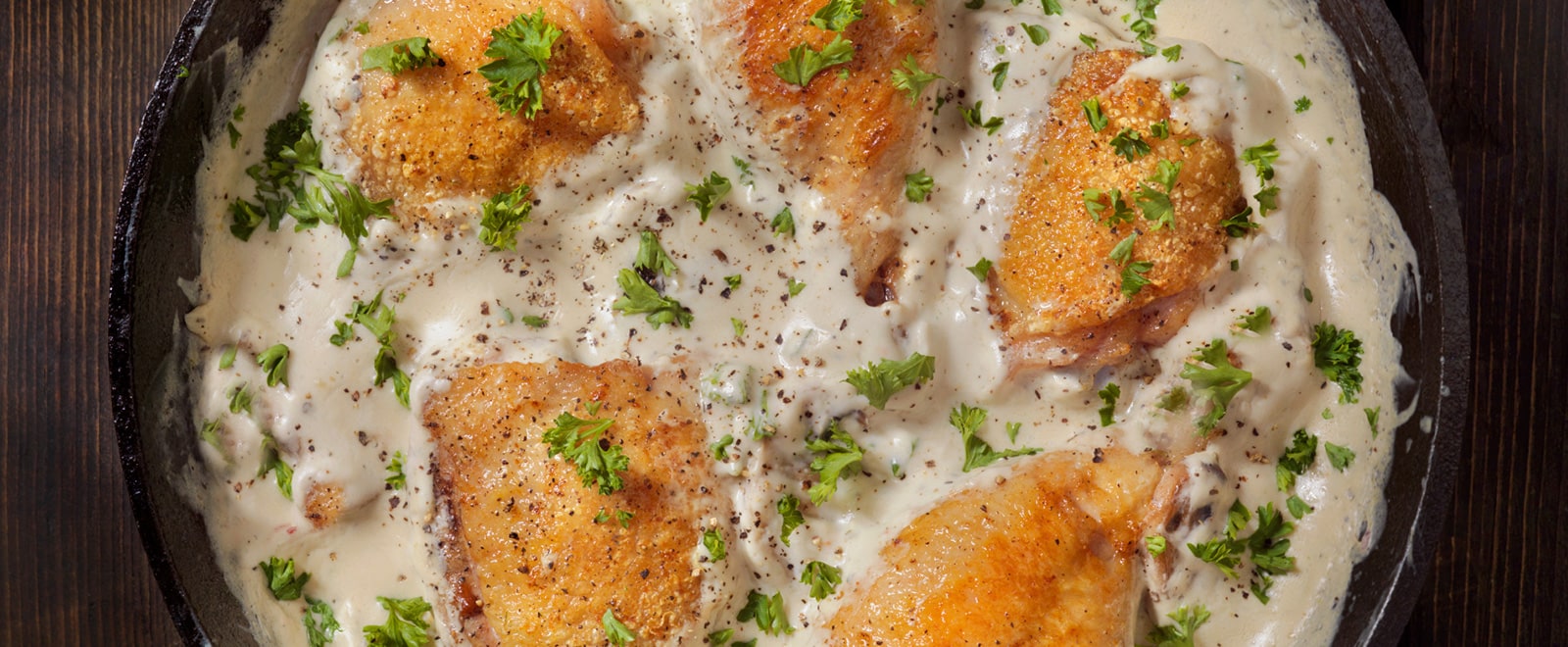 Prep Time:
25 MIN
Cook Time:
45 MIN
Serves:
6
Ingredients
This creamy and heartwarming dish is perfect to showcase the quality and tenderness of Canadian chicken. It makes a whole meal, ready to share with your family, packed with calcium and protein.
1 whole chicken (about 3 lb/1.5 kg)
1/4 cup (60 mL) all-purpose flour
3/4 tsp (4 mL) dried thyme leaves
3/4 tsp (4 mL) each salt and pepper, divided
1/4 cup (60 mL) canola oil, divided
1 large onion, chopped
1 pkg (8 oz/227 g) mushrooms, sliced
2 cups (500 mL) chopped squash or pumpkin
1 cup (250 mL) chicken broth
1 cup (250 mL) whole milk
2 tbsp (30 mL) tomato paste
1/2 cup (125 mL) sour cream (14%)
4 cups (1 L) egg noodles, cooked
Chopped parsley
Preparation
First prepare to portion out the whole chicken. Lay chicken breast side up on cutting board. One at time, lift the legs away from the body and using your chef's knife, cut at the hip joints to remove the legs and thighs. (You can make a cut between the drumstick and thigh if desired.)
Hold the chicken upwards and cut down the ribcage to separate the backbone from the breasts. One at a time, lift the wings away from the body and cut at the shoulder joint to remove the wings.
Using your knife cut along the top part of each side of the breast bone and cut down to remove each side. (You can cut each breast in half crosswise if desired.) You should have 6 pieces of chicken and the carcass.
Place chicken pieces in a large bowl and flour, thyme and 1/2 tsp (3 mL) each of the salt and pepper; toss well to coat evenly. Wash your hands well.
In a large shallow Dutch oven or deep skillet, heat half the oil over medium high heat. Brown chicken pieces, (reserving flour mixture in bowl) in batches all over until browned well and place on plate.
Add remaining oil to Dutch oven along with onion, mushrooms and remaining salt and pepper. Cook, stirring often for about 8 minutes or until starting to brown. Add squash and stir to coat. Whisk broth, milk, tomato paste and reserved flour mixture together and add to vegetables. Bring to a simmer, stirring occasionally.
Return browned chicken pieces to pot; cover and simmer for about 20 minutes or until internal temperature reaches 165°F (74°C).
Remove 1/2 cup (125 mL) of the broth and whisk into sour cream. Stir into pot and cook for about 5 minutes to heat through.
Divide egg noodles among shallow bowls and top with chicken pieces and spoon vegetables and sauce over top. Sprinkle with parsley to serve.
Sponsored by:
Nutritional Information (per serving)
Calories
610
Fat
32g
Saturated
8g
Cholesterol
110mg
Sodium
510mg
Calcium
150mg
Carbohydrate
47g
Fibre
4g
Sugars
7g
Protein
34g
Vitamin A
37%
Vitamin C
17%
Iron
22%
**The percentage of calcium is based on the Osteoporosis Canada's daily calcium requirement for people under 50 years of age of 1000 mg.
Osteoporosis Canada's position on nutrition for healthy bones focuses on calcium and vitamin D while stressing a well-balanced diet which includes fibre and whole grains, vitamins and minerals and protein.
You can freeze the carcass to use for chicken stock later.
Canada's chicken farmers are proud to raise the safe, fresh, high-quality chicken that Canadians count on every day.
Canola oil is really versatile, it can be used in so many ways in your kitchen from baking to this delicious Chicken and Squash Stroganoff. It's a pantry favorite. Be sure to store your canola oil in a cupboard away from heat. It does not need to be refrigerated.