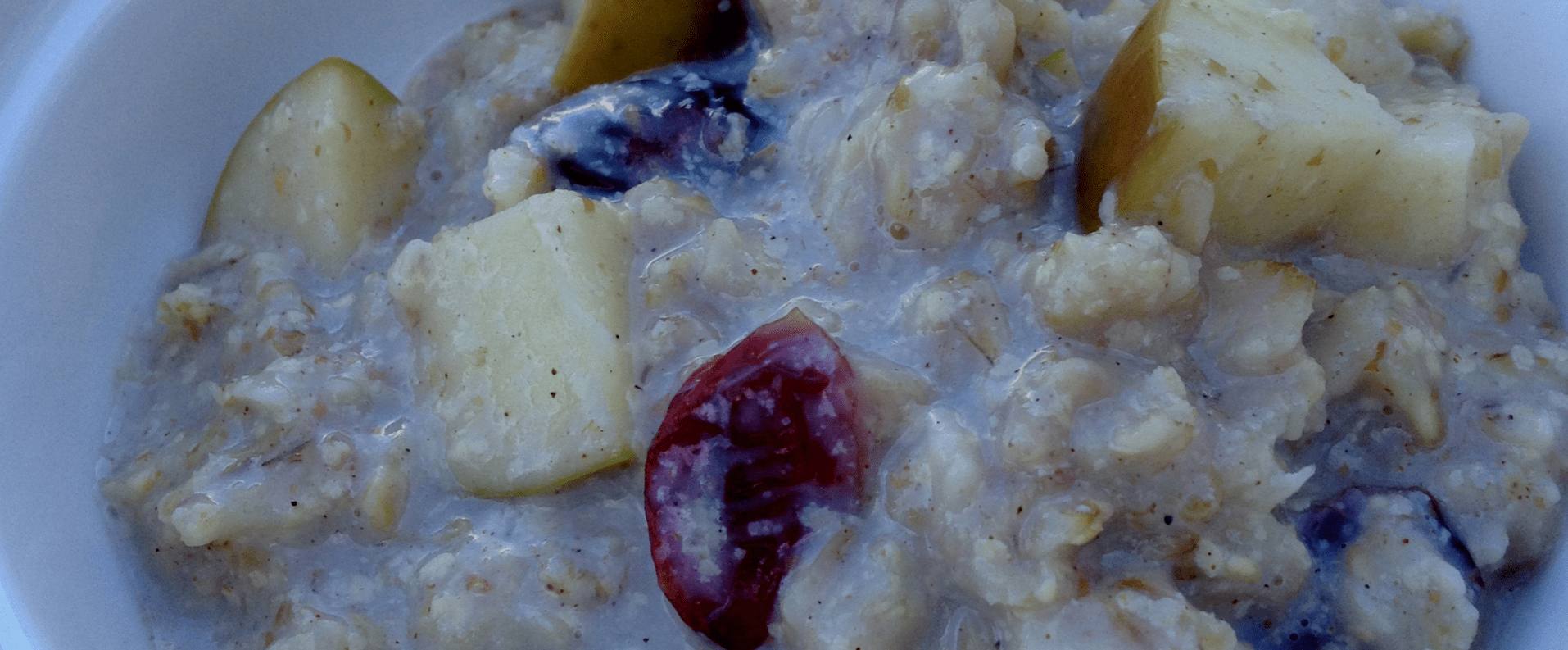 Prep Time:
5 mins
Cook Time:
15 mins
Serves:
4
Ingredients
This perfect combination has a wonderful aroma that will make you think of a hot apple pie in the morning.
3 1/2 cups (625 mL) skim milk
1 1/3 cups (325 mL) large flake oats
1/3 cup (75 mL) wheat germ
2 tbsp (30 mL) packed brown sugar
1/2 tsp (2 mL) pumpkin pie spice or ground cinnamon
1 apple or pear, cored and diced
2 tbsp (30 mL) dried cranberries
Preparation
In a large saucepan, bring milk to a gentle boil. Stir in rolled oats and wheat germ. Reduce heat to medium-low heat; stir in sugar, if using and pumpkin pie spice. Cook, stirring for about 12 minutes or until almost thickened.
Remove from heat and stir in apple and cranberries. Cover and let stand for 5 minutes before serving.
Nutritional Information (per serving)
Calories
311
Fat
4g
Saturated
1g
Trans
0g
Cholesterol
4mg
Sodium
94mg
Calcium
295mg/30%
Carbohydrate
56g
Fibre
6g
Sugars
26g
Protein
15g
Vitamin A
15%
Vitamin C
6%
Iron
20%
*The percentage of calcium is based on the Osteoporosis Canada's daily calcium requirement for people under 50 years of age of 1000 mg.
Osteoporosis Canada's position on nutrition for healthy bones focuses on calcium and vitamin D while stressing a well-balanced diet which includes fiber and whole grains, vitamins and minerals and protein.
Make ahead option: Make the oatmeal the night before and warm up in the microwave the morning of with a splash of skim milk. Stir and enjoy!
Fruit Variations: Use your favourite fruit in season instead of the apple. Try peaches, plums, strawberries, blueberries or pears.
Tip: If you want your apple softer, simply add it earlier and cook until desired texture.