Members In Action
Osteoporosis Canada will be releasing updated Osteoporosis Management Clinical Guidelines in the fall of 2020.  Along with a steering committee, working groups have been established including: risk assessment, pharmacotherapy, exercise, nutrition and knowledge translation. There is also a stakeholder committee and a Conflict of Interest monitoring committee. A primary care physician and  a member of the Canadian Osteoporosis Patient Network (COPN) are integral members of each committee to ensure all voices are heard.
These working groups are tasked with identifying primary questions  and outcomes relevant to the guidelines and their working committee. These questions will serve as the basis for searching specific databases in the collection of current and relevant data. The GRADE approach (Grading of Recommendations, Assessment, Development and Evaluation) is being used.
To inform the guidelines process, general practitioners and COPN members were asked to complete a survey to help the working groups identify priorities.
ISCD Researcher of the Year
Dr. William D. Leslie, MD, FRCPC, MSc, CCD
The International Society for Clinical Densitometry (ISCD) Researcher of the Year award for 2020 was recently presented to Dr. William D. Leslie, MD, FRCPC, MSc, CCD.
This award is given to an outstanding researcher for distinguished service to the field of densitometry in the areas of publication, education, or leadership. Awardees are nominated by their peers and colleagues in the field for their outstanding contributions to the field of densitometry.
Dr. Leslie is a Professor of Medicine and Radiology at the University of Manitoba with over 450 peer-reviewed publications. His research interests are in fracture risk assessment, osteoporosis testing, and other nuclear diagnostic techniques. He is Past President of the International Society for Clinical Densitometry, Past Chair of the Osteoporosis Canada Scientific Advisory Council, co-led the "2010 Clinical Practice Guidelines in Osteoporosis", Director of the Manitoba Bone Density Program, and Co-Director of the Winnipeg PET Imaging Centre. He is currently the co-chair of the Osteoporosis Canada's 2020 Clinical Practice Guidelines Steering Committee.
Congratulations Bill!
PATIENT POSTER
ENGAGING PATIENTS IN THE DEVELOPMENT OF NEW CANADIAN OSTEOPOROSIS CANADA CLINICAL PRACTICE GUIDELINES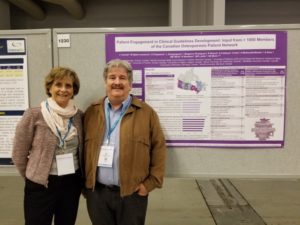 Osteoporosis Canada is currently developing new clinical guidelines for osteoporosis care. To ensure that the issues important to those who live with the disease are accounted for, an online patient survey was conducted in spring 2018 and sent to members of COPN (Canadian Osteoporosis Patient Network).
Over 1100 members completed the on-line survey and the results were submitted in a poster by Larry Funnell and Dr. Suzanne Morin to the American Society for Bone Mineral Research (ASBMR) and it was accepted which is a great accomplishment.
The poster was presented by long time Osteoporosis Canada volunteer Larry Funnell who is a member of the COPN Executive Committee at the ASBMR conference in Montreal on October 1, 2018.
Some of the findings from the survey included:
Preserving quality of life and well-being as the most important treatment outcome for patients.
More than ⅓ want updated guidelines related to pharmacotherapy, such as benefits and potential side effect and drug holidays.
Many stressed the importance of including recommendations on exercise and physical activities that are safe and effective for those with osteoporosis.
All of these, and many more survey responses on a full range of issues that also include risk assessment and nutrition will help the interdisciplinary working group of clinicians, researchers and patients ensure Osteoporosis Canada's Clinical Practice Guidelines reflect the wants and needs of patients.