FLS: Make Your First Break Your Last!
A Fracture Liaison Service (FLS) is a specific model of care where a coordinator pro-actively identifies fracture patients, on a system-wide basis, and determines their fracture risk with the express purpose of facilitating effective osteoporosis treatment for high-risk patients. FLS is, by far, the most effective secondary fracture prevention method to ensure fracture patients receive the osteoporosis care they need to prevent additional fractures.
Osteoporosis Canada's Fracture Liaison Service (FLS) Hub promotes and supports the implementation of quality Fracture Liaison Services in jurisdictions across Canada. FLS will improve osteoporosis care and clinical outcomes for fracture patients while reducing overall healthcare costs by reducing expensive repeat fractures.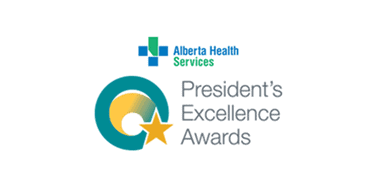 Alberta's Fracture Liaison Service Team receives the Alberta Health Services President's Excellence Award
Each year, Alberta Health Services (the province wide, fully-integrated health system in Alberta) recognizes exceptional accomplishments by teams across the province through the President's Excellence Awards.  Alberta's Fracture Liaison Service Team is the recipient of the 2018 award for Outstanding Achievement in Innovation and Research Excellence. This award recognizes an individual or team who demonstrates outstanding improvements to quality care, patient experience, patient and population health outcomes and health system performance through the successful introduction of an innovation.  Alberta's FLS team was selected as one of three winners in this category from a record 138 nominations total.
Report from Osteoporosis Canada's first national audit: leading FLS improvement in Canada
The results from the Osteoporosis Canada's first national Fracture Liaison Service (FLS) audit demonstrate the positive impact of Canadian FLSs on the lives of fragility fracture patients. The promising results, released in September 2018, are included in the "Report from Canada's first national FLS audit" which provides an overview of the audit for the cohort of patients enrolled in Canadian FLSs between April 1 and September 30, 2017.
The huge post-fracture care gap has been well documented in many Canadian jurisdictions. Without FLS, less than 25% of fragility fracture patients will be diagnosed and/or treated for their underlying osteoporosis.
By significantly improving osteoporosis care, FLSs help prevent future fractures, reduce patient suffering and increase their independence. With less than 50 FLSs in Canada, many more FLSs are needed to provide appropriate care to fracture patients.
To read the full report, click here