Osteoporosis is a chronic condition that, if you are at high risk of fracture, requires treatment with an osteoporosis medication. There is currently no evidence that osteoporosis medications increase the risk or the severity of COVID-19 infections.
With the exception of bisphosphonates, which stay in your bones for a longer time after you stop taking them, stopping osteoporosis drug therapy is associated with bone loss and an increased risk of fracture. This means it is important to not stop osteoporosis therapy or delay the dose of medication without consulting your physician.
The COVID-19 vaccine may result in a mild flu-like reaction as well as a reaction at the injection site. This is true of all the vaccines available at this time.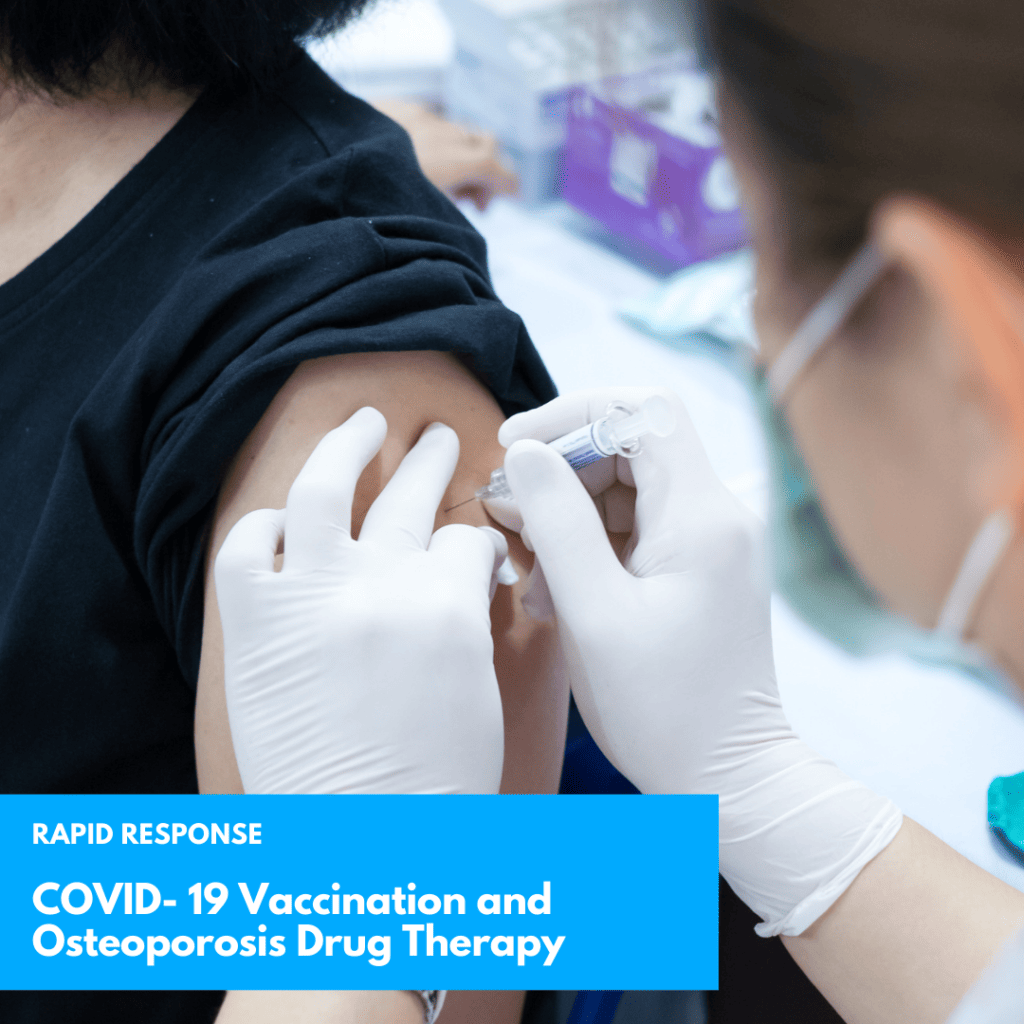 Since intravenous zoledronate (Aclasta) or injected denosumab (Prolia) or romosozumab (Evenity) medications may also result in a flu-like reaction or local injection site reaction, it is advisable that these medications not be administered at the same time as the COVID-19 vaccine.
Although the timing of denosumab (Prolia) can be adjusted to accommodate vaccine timing, it is important to make sure that the denosumab (Prolia) dose is not more than seven months after the previous dose. An interval of one week between infusion of the intravenous bisphosphonate zoledronate (Aclasta) and COVID-19 vaccination is recommended. An interval of 4-7 days between an injection of denosumab (Prolia) or romosozumab (Evenity) and the COVID-19 vaccination is recommended.
As teriparatide (Forteo) is administered daily, it can be continued if it is well tolerated and has not resulted in any local injection site reactions. Osteoporosis Canada recommends administration of teriparatide (Forteo) in the abdominal wall or the thigh and not in the same location as the COVID-19 vaccine. Oral bisphosphonates (Actonel, Fosamax, Fosavance) and raloxifene (Evista) can be continued without any delay in their administration.
These recommendations are consistent with the joint recommendations made by the American Society of Bone and Mineral Research, the International Osteoporosis Foundation, the National Osteoporosis Foundation and other international organizations.