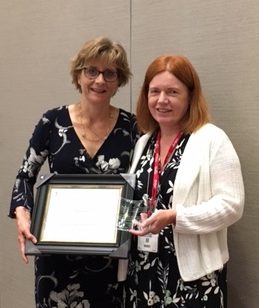 Osteoporosis Canada's Scientific Advisory Consultants and Osteoporosis Canada, would like announce this year's Lindy Fraser Award winner as chosen by the members of the SAC.
Osteoporosis Canada established this award in 1993 to recognize individuals who have made an outstanding contribution to the field of osteoporosis research and education in Canada. The award is named in honour of Lindy Fraser, who in 1981 at the age of 87, started the first self help group for people with osteoporosis. She herself was an inspiration to others as she shared her struggle to get out of bed, into a wheelchair, then to walk again with a cane. In 1982, she answered a call from a small group in Toronto to take part in the first national symposium on osteoporosis. That appearance was the spark that gave rise to Osteoporosis Canada.
This year's award winner has shown immeasurable dedication and determination in the collaborative effort to achieve the common vision of Canada without osteoporotic fractures. Osteoporosis Canada is happy to recognize Dr. Stephanie Kaiser as the 2017 Lindy Fraser Award Winner.
Dr. Stephanie M. Kaiser is the Head of the Division of Endocrinology and Metabolism at the Queen Elizabeth II Health Sciences Centre and Professor of Medicine at Dalhousie University in Halifax, Nova Scotia.
Dr. Kaiser is Past President of the Canadian Society of Endocrinology and Metabolism (CSEM), she chaired the Specialty Committee for Endocrinology and Metabolism of the Royal College of Physicians and Surgeons of Canada and then sat on the nucleus committee for an additional 6 years until June 2016. She was a co-author of the Osteoporosis Guidelines in 2002 and again in 2010, and she is also a co-investigator for the Canadian Multicentre Osteoporosis Study. Dr. Kaiser has over 50 publications in peer-reviewed journals.
Dr. Kaiser was the recipient of the CSEM 2009 Educator of the Year Award and was awarded the Queen Elizabeth II Diamond Jubilee Medal for her work in osteoporosis in 2012.
Dr. Kaiser has been a longstanding member of the Scientific Advisory Council for Osteoporosis Canada, and has worked on numerous OC publications and committees currently being the co-chair of the new Knowledge Translation Committee and a member of the Executive Committee. In the past, she has chaired the development committee and sat on the guidelines committee.
Congratulations Dr. Kaiser!